Král slizů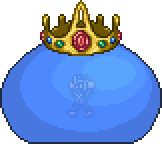 Classic

 Expert

 Master
Statistics
Typ

Prostředí

Typ AI

King Slime AI
Poškození

40

/

64

/

96

Max. život

2000

/

2800

/

3570

Obrana

10

O. v.

odražení

100%

Immune to
Možné získat
Předmět (množství)Šance

100%

100%

25%

Pouze jedna část může spadnout

33.33%

33.33%

33.33%

Pouze jedno může spadnout

33%

66%

10%

14.29%
King Slime neboli česky Král Slizu je pre-Hardmode boss a jak jeho jméno napovídá je to obrovský sliz. Je 5krát větší než Duhový sliz (největší obyčejný sliz).
Král Slizu se objeví pokud je splněna jedna z následujících podmínek:
Hráč použije

Korunu Slizu

150 slizů je zabito při

Dešti Slizů

/ 75 slizů pokud už byl Král Slizů zabit
Náhodný spawn
Když mu ublížíte, spawne se u vás modrý sliz. Spadne vám z něho kousek z Ninja setu, když umře.
Když je King Slime přivolán, objeví se v levém dolním rohu zpráva: "King Slime has awoken!" Po poražení se objeví podobná zpráva: "King Slime has been defeated!"
Zatímco je král Slizů naživu, hudba Boss 1 bude hrát.
Náhodný spawn
[
]
Král Slizů má velmi vzácnou šanci na spawnutí, pokud jsou splněny následující podmínky:
Hráč se nachází v jedné z vnějších šestin mapy (zcela vlevo nebo vpravo).
Hloubka musí být nulou.
Být den.
Na potenciálním spawnu musí být standardní zelená tráva (mimo obrazovku hráče)
Ocenění
[
]
Slippery Shinobi

 •

"

Defeat King Slime, the lord of all things slimy.

"

Defeat

King Slime

for the first time.

Historie
[
]
 Počítačová verze
Desktop 1.1

: Nyní může být přivolán pomocí Slizí Koruny.
Desktop 1.0.5

:

Odteď plave na vodě a nedělá šplouchací zvuk.
Odteď může být přivolán jenom jeden King Slime za jednu chvíli.