Slime re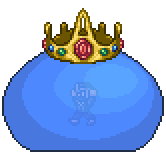 Classic

 Expert

 Master
Statistiche
Tipo

Ambiente

Tipo IA

IA Slime re
Danno

40

/

64

/

96

Vita Massima

2000

/

2800

/

3570

Difesa

10

Resistenza


Spintone

100%

Immune to

"Il Signore di tutto ciò che è viscido."

Il Slime re è un boss pre-Hardmode. È uno slime molto grande, circa cinque volte di più rispetto a Slime arcobaleno.
Slime re appare soddisfando una delle seguenti condizioni:
Un giocatore usa la

Corona slime

;

Uccidendo 150 slime durante la

Pioggia di slime

/ 75 se Slime re è stato già ucciso precedentemente;
Raramente a 1/6 degli estremi della mappa durante il giorno, e solo sull'

erba

.
Man mano che Slime re subisce danno, esso evoca dei Slime blu ordinari (e in Modalità Esperto, Slime chiodati) e si riduce di grandezza. Slime re lascia sempre almeno un pezzo dell'Armatura Ninja quando viene sconfitto. Quando Slime re appare, appare il messaggio "Slime re si è svegliato!", e una volta sconfitto, "Slime re è stato sconfitto!"
È immune a Avvelenato, Tossina e Confuso. Quando Slime re è vivo, la musica Boss 1 parte.
Apparizione
[
]
Slime re ha una possibilità rara di apparire se le seguenti condizioni sono soddisfatte:
Il giocatore si trova negli estremi della mappa (a 1/6 dal centro della mappa), a sinistra o a destra.

Profondità

oltre lo zero.
È giorno.
Deve esserci l'erba verde (fuori dallo schermo; vedi

Apparizione PNG

)
Pioggia di Slime
[
]
Main article:
Slime Rain/it
Se 150 Slime sono uccisi dal giocatore, lava, trappole o da Evocazioni durante la Pioggia di Slime, Slime re appare. Sconfiggendo il boss permette di terminare l'evento poco dopo - se tutti i giocatore muoiono, il boss sparisce (tranne in Giocatore singolo, dove il boss si teletrasporta al punto di riapparizione del giocatore) e l'evento continua per un'altro pò prima che finisce da solo (tra 9-15 ore in gioco). Se Slime re è stato già sconfitto nel mondo, richiederanno solo 75 Slime per apparire.
Gallery
[
]
Slime re prima della 1.3.0.1. Nella  Windows Phone and 3DS, Slime re usa ancora questo aspetto.

Slime re in  Versione PC,  Versione Console,  Old-gen console version,  Versione Mobile,  Old Chinese version,  Versione tModLoader, and  Versione tModLoader 1.3-Legacy.
Note
[
]
Seppur un nemico grande e resiliente, e la canzone Boss 1 in uso quando combatti con lui, Slime re è solitamente visto come un "miniboss" (anche se non ci sono note ufficiali dagli sviluppatori). Esso differisce da boss tradizioni in vari modi:

Può essere incontrato a prescindere dai progressi fatti in gioco;

È l'unico boss che viene danneggiato dalla

lava

;

Non attraversa o spara oltre i blocchi, quindi può potenzialmente proteggersi o intrappolarsi, cosa che non accade con gli altri boss (anche se allontanandosi troppo da uno Slime re intrappolato può far teletrasportarsi).

Nelle versioni

 PC

,

 Console

,

 Old-gen console

,

 Mobile

,  Old Chinese,

 tModLoader

, and

 tModLoader Legacy

, se il bersaglio di Slime re non è raggiungibile, esso si teletrasporta ad esso. Questo può essere fatto in qualsiasi distanza e non permette al boss di intrapporlarsi in una zona piccola.
Il salto più alto di Slime re può raggiungere un muro alto di 17 blocchi.
In

Modalità esperto

, Slime re può evocare

Slime chiodati

insieme a quelli normali man mano che perde salute. Nota che non sono affetti da

Gel Regale

.
Nota che Slime re non lascia gel, ma i Slime Blu che evoca invece si. Questo rende Slime re un buon modo per raccogliere gel, specialmente per il

Lanciafiamme

e per fabbricare

Blocchi di asfalto

.
Consigli
[
]
For more elaborate strategies on defeating Slime re, including
weapon
and
arena
recommendations, see
Guide:King Slime strategies/it
.
Armi perforanti non solo danneggiano Slime re ma possono uccidere gli slime extra che rilascia.
Gli slime Blu che rilascia possono lasciare

Cuori

e

Stelle di Mana

, che rispettivamente ripristinano 20

Salute

e 100

Mana

.
EvocaSlime re re in specifici posti usando la Corona slime può essere un metodo rapido per raccogliere oggetti specific, come le

Anime

(circa 50 anime ogni 1-2 minuti),

Chiavi ambientali

,

Mappe pirata

, bottino di

Halloween

oppure Yoyo come

Cascata

,

Yo-fuoco

,

Amarok

,

Yelets

e

Kraken

, per via del alto ammonto di Slime Blu rilasciati durante la battaglia.
Un metodo semplice per combattere Slime re è di mettere piattaforme su un'area, agganciarsi sotto la piattaforma e usa un'arma a Boomerang o Magica e sparalo, in quanto non può cadere dalle piattaforme.
Usando

Furia stellare

mentSlime re re sta cadendo dopo che ha saltato, esso può fare fino a 50 danni ogni volta che viene colpito dalla stella.
Trivia
[
]
Sembra che la fonte dell'

Armatura Ninja

è dal ninja che sta dentro Slime re.
Nelle versioni  Windows Phone and , è l'unico boss che può lasciare uno stendardo.
Il trofeo che lascia Slime re sembra essere un Ninjatō coperto in slime. Il Ninjatō è un'arma che solitamente i ninja possiedono.
L'immagine del Ninja dentro Slime re e la Corona sono conservati in file separati. Lo sprite di Slime re senza di esso è simile a uno Slime blu ingrandito.
Storia
[
]

 Versione PC
Desktop 1.3.5

: Ninja sprite updated.
Desktop 1.3.0.1

:

A sprite for a Crown added. Without the crown the sprite was .
New drops added.
Now has an Expert mode AI.
Now teleports whenever stuck and when not in range of the player for over 5 seconds.
Now spawns after the Slime Rain event.
Now drops the Solidifier.
Desktop 1.2.4

: New drops added.
Desktop 1.0.5

:

Now floats in liquids and doesn't make a splash sound when hitting water.
Only one King Slime may spawn at a time now.
Desktop 1.0.4

: Introdotto.
 Versione Console
Console-Release

: Introdotto.

 Versione Mobile
Mobile-Release

: Introdotto.
Versione Nintendo 

vi:King Slime/vitr:King Slime/trcs:King Slime/cs