Lantern Night

"

What a beautiful night! With your recent victory, the world seems more at peace, and these lanterns are in celebration of that.
The Lantern Night is a peaceful event that generally occurs the night after a boss or invasion has been defeated for the first time. During the event, many lanterns can be seen floating up into the sky in the background. The player will have a flat +0.3 increase to their luck stat and the Party Girl will sell the Release Lantern.
If a boss is summoned during the event, it will stop, and will not continue even after the boss despawns. However, if a Lantern Night is set to start but a boss or event is active when night begins, the Lantern Night may be pushed back instead; see the Notes section below for details.
In addition, a Lantern Night fulfills the requirements for Enchanted Nightcrawlers to spawn naturally only if a Meteor Shower is also ongoing.[1]
The Guide may display one of these two quotes during a Lantern Night: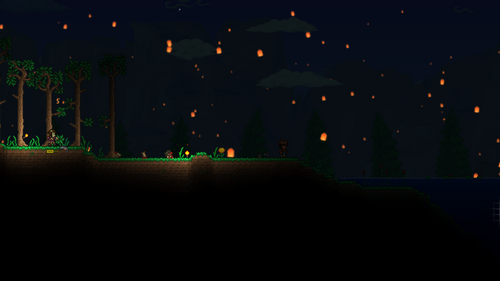 Desktop version

 Mobile version
↑ Information taken from the  Desktop 1.4.0.5 source code, method UpdateTime() in Terraria.Main.cs, and search for LanternNight.LanternsUp; see Meteor Shower for Enchanted Nightcrawler spawn requirement. There may be inaccuracies, as the current  Desktop version is 1.4.2.2.
↑ Information taken from the  Desktop 1.4.0.5 source code, method NaturalAttempt() and method LanternsCanStart() in Terraria.GameContent.Events.LanternNight.cs. There may be inaccuracies, as the current  Desktop version is 1.4.2.2.
↑ Terraria State of the Game - April 2019

Apr 15, 2019

(teaser text)