The
Lava Slime
is a variant of
Slime
only found in
the Underworld
. The Lava Slime can jump higher and further than normal
slimes
, in addition to having immunity to
Lava
, which they float upon similarly to other
slimes
floating on
Water
. The Lava Slime can inflict the
On Fire!
debuff.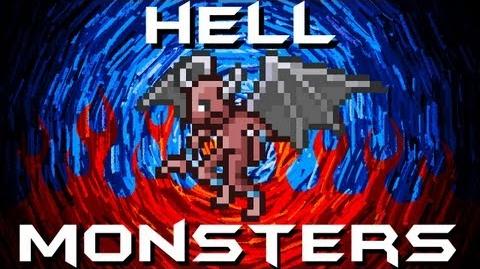 Notes
Lava Slimes appear to be on fire, giving off light that can be detected on the side of the screen, to give warning of the approaching danger.
Despite their resistance from the On Fire! debuff, the Imp Staff's summoned Imp is still very effective against it.
They don't drop Gel.
Lava Slimes can sometimes fit through 1 block gaps.
The lava slime's threat level is comparable to that of the Jungle Slime, even though the jungle slime does have higher stats. 
Unlike other slimes, the Lava Slime does not drop Gel on death.
However, a Lava Slime creates now one Lava Block on death since 1.3.0.1 (Expert Only)
When building a bridge to deal with the Wall of Flesh in Expert Mode, it is advisable to leave one-block breaks in the bridge periodically. This is to allow Lava from defeated Lava Slimes to drain instead of pool up on the surface of the bridge.
These should be dealt with quickly, as Lava Slimes are much faster then your average blue or green slime.
Update Info
Lava Slimes now create a block of Lava upon death. (Expert Only)
Community content is available under
CC-BY-SA
unless otherwise noted.