Lightning Aura sentry summons

Statistics
Type
Damage

(Varies each tier)

(Summon)

Knockback
0

(No knockback)

Use time
30

(Average)

Velocity
1
Tooltip
Summons a sentry
An aura that repeatedly zaps enemies that go inside
Costs 10 Etherian Mana per use while defending an Eternia Crystal
Projectile created
Lightning Aura (tier 1)

Lightning Aura (tier 2)

Lightning Aura (tier 3)
The Lightning Aura Rod, Cane, and Staff are special sentry summon weapons. They can summon the Lightning Aura sentry, which lasts for 2 minutes, remains stationary, and does not count against the player's minion capacity. Each Lightning Aura sentry is a circle of lightning aura centered on the base that damages enemies repeatedly as they go through it. It has a range of 17 tiles (1 tile is the center, and 8 in every direction). The Rod is sold by the Tavernkeep for 50000*5

, the Cane for 250000*25

, and Staff for 1000000*100

.
Lightning Aura weapons completely ignore enemy defenses by adding half the enemy's defense to the weapon's damage. The Lightning Aura Staff, for example, always inflicts around 34 damage on any enemy, regardless of its defense stat. This occurs before the defense drop from Ichor, Shark Tooth Necklace, or Stinger Necklace is taken into account, allowing them to benefit from the debuff/damage penetration. Lightning Aura weapons state tripled damage numbers in their tooltips as an estimate to reflect this unique ability.
The Rod is always available. The Cane becomes available after defeating one Mechanical Boss, and the Staff becomes available after defeating Golem. The three different versions cause an identical effect, but with varying statistics, with the Staff being the most expensive and the most powerful.
These weapons can only be used outside of the Old One's Army event after the event has been successfully completed. Completing the event on any difficulty allows Rods, Canes, and Staves alike to be used outside of the event.
During the Old One's Army event, Etherian Mana can be collected, which allows the placement of multiple Lightning Auras that remain permanently until the event is over. Etherian Mana cannot be used outside the event.
Lightning Aura sentries are boosted by the Monk armor and Shinobi Infiltrator armor set bonuses, which increase their attack rate (from 2 attacks per second to 2.4 attacks per second) and allow them to deal critical hits. The critical strike chance of these weapons will always be locked at 25% (Shinobi Infiltrator), or 16.7% (Monk), and will not be boosted by the weapon's modifier or any other boost to critical strike chance. The Shinobi Infiltrator armor also increases the size of the Lightning Aura summon.
Its best modifier is Demonic or Deadly, as it does not have any knockback and thus cannot get modifiers that affect it.
Demonic now gives 25% damage. Bringing the Tier 1 Rod to 6 damage.
Tiers
[
]

Projectile created
Lightning Aura (tier 1)
Lightning Aura Cane
Tier 2

Projectile created
Lightning Aura (tier 2)
Lightning Aura Staff
Tier 3

Projectile created
Lightning Aura (tier 3)
Notes
[
]
Completing the Old One's Army event on any difficulty sets a hidden attribute for both the world it was completed on and the character who completed it. Any characters, including newly made ones, who visit that world may then use Rods, Canes, and Staves on that world. The character who completed the event may also use Rods, Canes, and Staves on any world.
A Lightning Aura sentry can be placed next to another Tavernkeep sentry, but it isn't possible to place another Tavernkeep sentry inside an existing lightning aura. Therefore, if you want to cluster various sentries together, place the Lightning Aura last.
A Lightning Aura sentry placed close to one of the portals will kill or severely weaken most of the tier 1 mobs before they can get anywhere close to the crystal, making tier 1 much easier.
The Lightning Aura's maximum radius is 9 tiles, with the top 'orb' being in the 10th tile up from the base. If summoned in a space shorter than 10 tiles (blocked by either blocks or platforms), the Lightning Aura shrinks, down to a minimum radius of three tiles, with the orb inhabiting the fourth tile above.
The Lightning Aura requires a line of sight from the orb to any enemy inside its radius in order to damage them. Summoning a Lightning Aura in a space shorter than 10 tiles places the orb inside a block, rendering most of its attack range moot; though it will still damage enemies directly beneath it. While platforms will decrease the range of a Lightning Aura, they will not block line of sight, allowing the aura to function normally.
Dungeon Guardians, and any other enemy that happens to have over 999 defense, are excluded from the Lightning Aura's defense compensation ability, and will cause the Aura's damage to be reduced as normal.
The aura will sometimes destroy the projectiles fired by Caster AI enemies.
The Lightning Aura can be used effectively against worm bosses.
A Lightning Aura sentry emits light, therefore it can be useful when exploring caves to locate undiscovered sections. Attempting to place it in a solid area will not use mana, so it can be freely used to probe "blank" areas for possible caverns. Binoculars or similar can be helpful to extend the area mapped by the light.
This sentry can be displaced. This behavior can lead to some interesting movement of the sentry when placed in narrow sloped tunnels, like those of the Underground Desert, and it can end up some distance away from it's intended placement, inside walls, or even completely off screen.
Gallery
[
]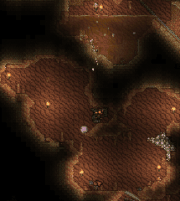 See also
[
]
Trivia
[
]
Prior the Lightning Aura Rod's introduction to Terraria, the Slime Staff was the weakest summon item in the game (half base damage, but ignores defense).
History
[
]

 PC version
Desktop 1.3.4.4:

Fixed emitting sounds for enemies it cannot reach underneath it.
Fixed turrets falling through platforms after spawning on them.
 Console version

 Nintendo Switch version

 Mobile version
References
[
]