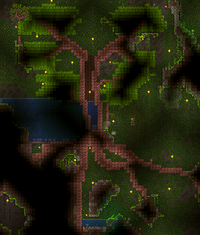 Living Mahogany Trees are large tree-shaped structures generated at world creation in the Underground Jungle. The trunk of a Living Mahogany Tree is hollow, and (unlike Living Trees) always contains an Ivy Chest at its base.
Loot
[
]
This content is transcluded from Ivy Chest § Loot.Each Ivy Chest will always contain one primary item, and can potentially contain multiple secondary items, or none at all. Besides one of the items listed here, they will also contain common items depending on the height they were found: Underground or Caverns.
Primary items (only one)
Item
Quantity
Chance
Feral Claws
1
21.72%


22.5%


23.68%  
Anklet of the Wind
1
21.72%


22.5%


23.68%  
Staff of Regrowth
1
21.72%


22.5%


23.68%  
Boomstick
1
21.72%


22.5%


23.68%  
Flower Boots
1
4.57%
4.74%
Fiberglass Fishing Pole
1
6.53%
3.27%    
Seaweed
1
2%
Notes
[
]
History
[
]
 Desktop version
Desktop 1.4.1: Fixed Living Mahogany trees not considering Jungle Grass as Jungle when generating, significantly limiting their numbers.

 Console version

 Switch version

 Mobile version