Luminite Arrow



Projectile created
Luminite Arrow

Luminite Arrow Trail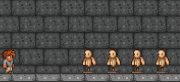 Luminite Arrows are one of the strongest types of arrows. When fired, they are followed by a laser-like projectile after a short delay. The arrows and lasers have a fast travel time, and can pierce through three enemies, dissipating upon impact of the fourth. Luminite Arrows are destroyed upon use.
Crafting
[
]
Recipes
[
]
Notes
[
]
Both Luminite Arrows and their bolts reduce their damage by 4*1/25 (4%) each time they damage an enemy.[1]
The bolts appear approximately 0.5 seconds after firing the arrows.
Secondary bolts will originate at the same position where the arrows were initially fired, regardless of player position or movement.
A secondary bolt will be spawned for each arrow that was initially fired. For instance, using a Tsunami, which fires five arrows at once, will cause five bolts to be released after the initial shot.
Unlike many other arrows, both Luminite Arrows and their bolts have a limited range. They will evaporate in the air if they exceed this maximum range.
Tips
[
]
A full stack of 999 Luminite Arrows can be crafted from just 3 Luminite Bars.
It can be difficult to hit a moving enemy with the secondary bolts. Enemies can be damaged by both the arrows and their bolts if they are on a long, flat surface (e.g. a skybridge).
Luminite Arrows synergize exceptionally with the Phantasm bow:

The Phantasm releases four arrows (and thus four secondary lasers) while consuming only one arrow from the inventory.
It has a 66% chance not to consume arrows, which is very desirable considering the value of Luminite as well as its ineligibility for recovery.
A successful hit with Phantasm can allow for a triple hit on an enemy: first the initial shots, then the Phantasm's secondary arrow projectiles, and lastly the bolts from Luminite Arrows.

With the appropriate setup and proper movement, a Phantasm with Luminite Arrows may trivialize even the Moon Lord.
Trivia
[
]
The quote "

'Shooting them down at the speed of sound!'

" may be a reference to the line "Rolling around at the speed of sound" in the song "Escape from the City" from the 2001 platform game Sonic Adventure 2.
History
[
]
 Desktop version

 Console version

 Nintendo Switch version

 Mobile version
References
[
]