The
Magic Mirror
is an item that allows almost instant teleportation back to the world's 
spawnpoint
 or to the player's 
Bed
 (if the spawn point is set). It can be found in chests located underground. The item has a short delay of about one second; during this time, the player is susceptible to damage.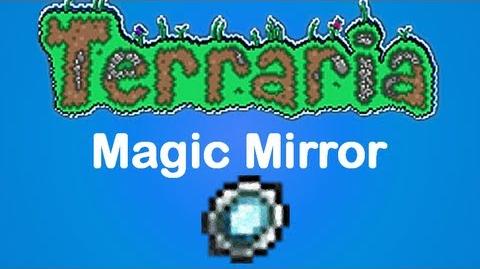 Notes
Even though it is only considered as tier one and could be acquired in the early stage of the game, many expert players still use this tool to get out of sticky situations.
Using a Magic Mirror while the "Horrified" debuff (which only happens naturally while fighting the Wall of Flesh) causes the player to explode, giving the unique death message "[player's name] tried to escape".
Simply exiting the world and reloading it can be used as a substitute for the Magic Mirror, though this has the downside of taking longer and causing all items which were on the ground to de-spawn.
Since teleporting with the Magic Mirror takes some time, the player can still die while doing it.
It can be used to teleport to the Nurse (If the player has set a spawn point in her room) for quick healing.
There is an alternative version of it called the "Ice Mirror". The only difference is the way it looks and the name.
Most bosses despawn when using this item to teleport home, which may be troublesome in boss fights. However, The Destroyer and Moon Lord will simply teleport to where the player is.
Trivia
The particle effect of the Magic Mirror is similar to the Magic Missile's impact particle effect, where it lights up surfaces or enemies while the particles emit.
The item may be a reference to the teleporting mirror in "Zelda: A Link to the Past" or "Luigi's Mansion".
Bugs and Glitches
If the mirror is used, but the player switches to another item before the particle effects dissipate, the item will spin around then disappear.
When using the Magic Mirror in specific biomes, the music for that biome may keep playing even though the player has teleported to another. This can be fixed by saving and exiting, then reloading the world.
It will sometimes crash the game on use if in water. (Tested on Amazon Version)
Getting killed on the frame that the magic mirror teleports you to spawn will cause you to instantly respawn
The magic mirror can be used to duplicate items on console by using the mirror, and clicking on an item in your inventory on the frame of teleportation
Update Info
Magic Mirror now requires the use of 20 mana.
Community content is available under
CC-BY-SA
unless otherwise noted.