This article is in need of cleanup, and may not live up to the quality standards of the Terraria Wiki. You can help by

editing it

, or by bringing concerns of an immediate nature to the

Administrator's Noticeboard

.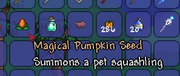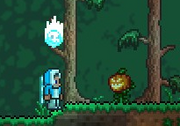 The Magical Pumkin Seed is rare drop from pumpkins.It can also be found in a Goodie Bag.  It summons a Pet Squashling.
Notes
The Squashling will fly like a rocket if there is nowhere for it to stand, or if the player is too far away.
By selecting the Magical Pumpkin Seed and using it, the Squashling will be teleported to the player.
After the player's death the Squashling has to be summoned again.
Update info: