The
Man Eater
is a common plant-like monster that
spawns
, along with 
Snatcher
and
Dragon Snatcher
, in the
Underground Jungle
. It is attached to the ground and attacks you by trying to "eat" you. The Man Eater's "neck" will not deal damage to the player and it can only be killed by attacking its "head" or destroying the block it's tethered to, however they will not drop loot if you destroy the block. It is also possible for two Man Eaters to
spawn
on the same block. Man Eaters are known to drop 
Vines
 (which are used to craft the 
Ivy Whip
).
This monster is almost identical to the Snatcher, of which the Man Eater appears to be a stronger relative. Snatchers appear in Jungle biomes on the surface.
The Man Eater seems to have a limited range when trying to attack a player, but if the player attacks the Man Eater, it can grow in length. If you move more than 150 ft away from a stretched Man Eater, it will disappear until you come within 150 ft again.
The Flamelash or Magic Missile can be effective weapons against a Man Eater, by simply stepping out of its range and following its head with the projectile.
Be careful if you decide to attack it head on, as the Man Eater will shorten its "neck" to lure you to come closer to attack and then it will extend it to deal Damage towards you. They are quite dangerous since they have 130 HP and deal 42 damage. The best way to deal with it is using a ranged weapon. However, as of patch 1.05, Man Eaters are no longer affected by terrain, so getting a good firing lane could be problematic. This can be countered with weapons such as the Vilethorn, so be sure to keep one handy when traversing the Underground Jungle.
Another good tactic to fighting a Man Eater is to strike the head to stretch the neck then rush in to break the block it's tethered to before it can retract it's head. If you already have the Ivy Whip, you can position yourself to float in between blocks right outside its reach and attack it at your leisure (although hornets often cause a problem).
Alternatively, if you have a flail weapon, stand on a block at an angle above them and aim slightly above the man eater's head.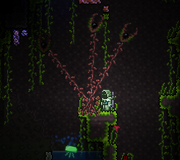 Man Eaters take a long time to retract/lengthen their necks, so a clever player can take advantage of this by building a 10-20 block bridge, a Man Eater on one end, and the player can run up to the Man Eater, jump over them and attack their head from behind.
Be careful when approaching Man Eaters. If you accidentally drop in too close, they can easily retract their heads and deal massive damage.
It is possible for Man Eaters to attack the player through walls.
Update InfoEdit
Damage decreased from 45 to 42.
Health decreased from 200 to 130.
Damage decreased from 60 to 45.
Man Eaters are now drawn above tiles rather than behind them.
Now extend their stems at random, rather than when the player is moving rapidly.
No longer affected by terrain.