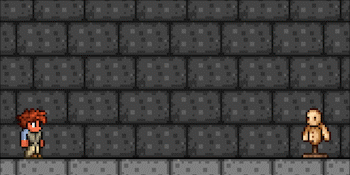 The Megashark is a Hardmode gun that fires bullets. It is a stronger version of the Minishark and is one of the strongest pre-Plantera guns in the game. It fires at an insanely fast speed and has a 50% chance not to consume ammo.
Its best modifier is Unreal.
Crafting
[
]
Recipes
[
]
Comparison to Uzi
[
]
Aspect
Megashark
Uzi
Base damage
25
30
Knockback
1

(Extremely weak)

3.5

(Weak)

Critical strike chance
4%
4%
Use time
7

(Insanely fast)

9

(Very fast)

Velocity
10
7
Chance not to consume ammo
50%
0%
Base DPS[1] (with Musket balls)
285
256
Tips
[
]
Trivia
[
]
The Minishark has the same sell value as the Megashark, despite being weaker and an ingredient in its crafting recipe.
The S.D.M.G.

is a direct upgrade to the Megashark, though unlike the Megashark, it is an exclusive drop.
When firing straight down, one can see that the bullets appear just above the barrel, near the fins.

Since Lepus has a 1% chance to drop 3 Souls of Might, it is possible to obtain the crafting ingredients for the Megashark pre-Hardmode. However, it will still require a Hardmode Anvil to craft.
History
[
]
 Desktop version

 Console version

 Nintendo Switch version

 Mobile version
Footnotes
[
]
↑

Note that DPS is rarely considered a suitable stat for comparison due to being affected by numerous variable, thus unreliable factors.