Obtained from

 Classic

 Expert

 Master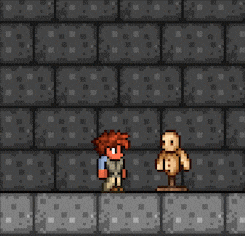 The Muramasa is a blue broadsword that is found in the Dungeon's Locked Gold Chests or in Golden Lock Boxes, both of which are opened via a Golden Key. The Muramasa has a slightly longer reach than the Phaseblade and has a fast attack speed. It is also worth mentioning that it is an autoswing sword, not many of which can be found during Pre-hardmode. It also emits a small amount of light when swung.
Its best modifier is Legendary.
Crafting
[
]
Used in
[
]
Tips
[
]
Trivia
[
]
Muramasa is named after a famous swordsmith of the same name who lived in 16th century Japan.

The sword that he made is also called the Muramasa.

Other Muramasa swords also appear in many other games.
The Muramasa is one of the few pre-Hardmode melee weapons that has autoswing.
Muramasa was the first weapon in the game to be the most powerful. That lasted until its damage and knockback were reduced and the ability to equip more than one pair of Feral Claws was removed, long before the 1.1 update when Hardmode was introduced. Prior to these updates, its high attack speed combined with the knockback it caused made it nearly impossible for enemies in front of the player to come close.
In the 1.4.1 patchnotes, the phrase "How ya doin' Muramasa?" follows the header for the weapon's section. This is a reference to a video of the same name by youtuber Hectique, which criticized the weapon's lackluster adjustment in 1.4.0.1.
History
[
]
 Desktop version
Desktop 1.4.1:

Damage increased from 21 to 26.
Knockback increased from 2.5 to 3.
Desktop 1.3.0.1:

Damage increased from 18 to 19.
Knockback increased from 1 to 2.5.
Use time reduced from 19 to 17.
Desktop 1.0.5:

Damage reduced from 22 to 18.
Knockback reduced from 3 to 1.

 Console version
Console 1.0.750.0: ()

Sprite updated to the Desktop 1.3.1 sprite.
Damage increased from 18 to 19.
Knockback increased from 1 to 2.5.
Use time reduced from 19 to 17.

 Nintendo Switch version

 Mobile version
3DS-Release: Introduced with the stats of Desktop 1.0.5 and Desktop 1.2 sprite.