Obtained from

 Classic

 Expert

 Master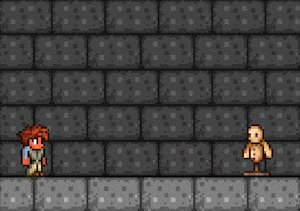 The Musket is one of the earliest obtainable guns, and is the Corruption's counterpart to the Crimson's Undertaker. It autofires bullets at a very slow rate. It is fairly potent compared to a Wooden Bow, as it does 31 base damage, in addition to the damage from the particular bullet fired. The Musket has the second-highest base damage of all pre-Hardmode ranged weapons, only being outranked by the Star Cannon.
The Musket (along with 100 Musket Balls) will always drop from the first Shadow Orb destroyed in a Corruption world; thereafter, it has a 20*1/5 (20%) chance of dropping from a destroyed Shadow Orb. It can also be found in Corrupt Crates (16.67*1/6 (16.67%) chance), which are obtained by fishing in the Corruption.
Its best modifier is Unreal.
Tips
[
]
Trivia
[
]
History
[
]

 PC version
Desktop 1.4.0.1: Aligned sell value with all other Shadow Orb/Crimson Heart loot, reducing it from

2

to

1

50

.
Desktop 1.3.0.1:

Damage increased from 25 to 31.
Knockback increased from 4.5 to 5.25.
Use time reduced from 40 to 36.
 Console version

 Nintendo Switch version

 Mobile version