The
Musket Ball
is the ammo used for the
Musket
,
Flintlock Pistol
,
Minishark
,
Megashark
,
Handgun
,
Clockwork Assault Rifle
,
Shotgun
,
Chain Gun
, and
Phoenix Blaster
.
Musket Balls are considered obsolete as soon as the player starts farming Meteorite Ore and can craft Meteor Shot, which will do more damage. You will need 70 Musket Balls and 1 Meteorite Bar to craft 70 Meteor Shots. When fired, Musket Balls appear shorter and more orange than the pink-tinged Meteor Shot, as seen below. You can also make Cursed Bullets, Crystal Bullets and Ichor Bullets with 50 Musket Balls and 1 Cursed Flame, Crystal Shard or Ichor respectively. You can also make Silver Bullets and Chlorophyte Bullets with 70 Musket balls and 1 Silver Bar or Chlorophyte Bar respectively.
Since none of the recipes divide well with 999, the maximum stack for bullets, bullets should be bought in even amounts. For example 1000 instead 999. Buying 999 bullets would leave you with 49 uncraftable bullets when using recipes which include 50 bullets.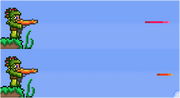 Trivia
See Also
Update Info
Stack size increased from 250 to 999.
Gained the ability to be crafted into more bullets.