Mythril Armor
is an
Armor
set which requires
Mythril Bars
for crafting. It is a tier below
Adamantite Armor
, but a tier above
Cobalt
.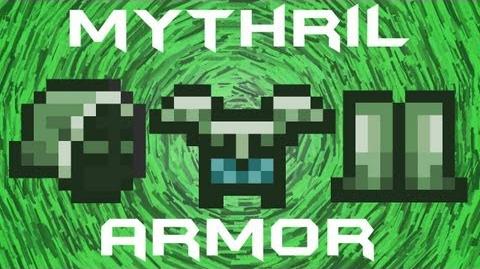 There are 3 designs for the headpiece: 'Melee', or physical attacks, 'Ranged', or ranged/spaced attacks, and 'Magic', or mana consuming attacks. Each of these pieces has different values on it, depending on their respective 'class'.
The armor glows seemingly after being charged by light from any source, even when placed in the social slot, making it very useful as you can wear better armor while still getting the glow from the Mythril Armor. This effect can lead to the brightness of the Shadow Orb being magnified to near that of a torch.
The set bonus of the full Mythril Armor set is different based on what head armor you use, and increases the stats based on the 'class' in the game you currently are.
Pieces of the Set
6 Defense
12% increased ranged damage
7% increased ranged critical strike chance
16 Defense
5% increased melee critical strike chance
10% increased melee damage
3 Defense
Increases Maximum mana by 60
15% increased magic damage
12 Defense
5% increased damage
9 Defense
3% increased critical strike chance
Update Info
Community content is available under
CC-BY-SA
unless otherwise noted.