The
Nebula Pillar
is one of the four pillars that spawns after defeating the
Lunatic Cultist
. This pillar is one of the weaker pillars. One of the most common mobs found near this pillar is the
Brain Suckler
. Nebula Fragments are dropped after the pillar is defeated.
The shield around the Nebula Pillar will be lowered after 100 (150 in expert mode) enemies are killed near the pillar, allowing the player to damage and destroy the pillar. Exiting the game will reset this count.
Nebula Pillar Mobs
Strategy:
The Nebula pillar is arguably one of the easiest of the four pillars, along with the Stardust variant, mainly because the enemies are easy to dodge and are not as dangerous as the ones around the Solar Pillar, for example.
Before fighting any of the pillars, it's advised to equip any wing accessory and get at least post-golem equipment and one of the following armor sets: Spectre, Beetle or Shroomite, depending on your playstyle, respectively. An Obsidian/Ankh Shield will also help with defense and protect you from knockback.
While fighting the nebula mobs, kite them around while dodging the projectiles of the Nebula Floater. You shall be able to handle the Brain Sucklers due to their slow speed. When landing on the ground below, pay attention to any Evolution Beasts that may roam down there, because they causes quite high damage, and can also fire a homing projectile, wich can be troublesome in the course of the battle. Keep kiting them and circling the tower until the shield vanishes. At this point, if you attained a Rainbow Gun, you can just simply shoot it in the middle of the pillar, causing damage to it and taking care of any remaining monsters around the pillar. After defeating it, you may then collect the Fragments and build the first Endgame Spells: Nebula Arcanum or Nebula Blaze, wich will be of good help in taking care of the other pillars.
Gallery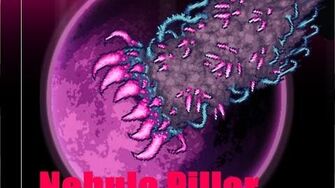 See Also
Update Info
Community content is available under
CC-BY-SA
unless otherwise noted.