Necro Armor
is a set of
armor
that increases ranged combat abilities. It is one of the first ranged armor availble prior to Hardmode. It is crafted at a
Work Bench
and consists of: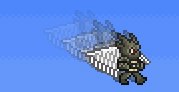 | | | | | |
| --- | --- | --- | --- | --- |
| | Defense | Bones required | Cobwebs required | Other bonuses |
| Helmet | +5 | 40 | 40 | 5% increased ranged damage |
| Breastplate | +6 | 60 | 50 | 5% increased ranged damage |
| Greaves | +5 | 50 | 45 | 5% increased ranged damage |
| Set bonus | N/A | N/A | N/A | 20% chance to not consume ammo |
| Total | 16 | 150 | 135 | 20% chance to not consume ammo and 15% increased ranged damage |
Notes
Bones are only dropped by Skeleton type enemies in the Dungeon. Therefore, the player must defeat Skeletron to be able to craft Necro Armor.
When the player has the full set of Necro armor equipped, the sound made when getting attacked changes from the human "Grunt" to the bone sound made when skeletons take damage.
Trivia
The name "Necro" may refer to the mythic Necromancer, a conjurer of the dead, or the noun or prefix "Necro-" which means Death. This links in with the fact that it requires bones to make and the noise of the player sounding like a skeleton when hit.
The Necro armor in the previous updates (Before 1.0.6) used to increase walking/running speed. It maintained the same look, and could only be found in Jungle biomes.
There used to be a bug that the player's head was shown when the backtrail was active (patched).
It is possible that, due to the name and design, this could be a reference to Sauron, The Necromancer, from The Lord of the Rings Trilogy.
Bugs
With the full Necro armor equipped in the Social slot, ranged attacks (such as Harpy's feathers) make the bone skeleton pain sound, but regular attacks make the human "Grunt".
When you use rocket boots with necro armor straight up on your way down your eyes will disappear for a moment.
Update Info
Amount of bones required to craft increased from 90 (Total) to 150 (Total).
Graphical variant for females added.
Added set bonus and ranged damage increase bonus.
Removed set bonus of 30% Increased movement speed.
Defense of all pieces reduced by one point.
Community content is available under
CC-BY-SA
unless otherwise noted.