The
Neptune's Shell
is an accessory that transforms the wearer into Merfolk when they enter water. It must be equipped in accessory slot for it to take effect. In this state the player has the ability to breathe
underwater
, swim as if they had
Flippers
, and isn't slowed down like normal. The effect instantly wears off as they leave the body of water and only remains active as long as you are in water. No longer craftable.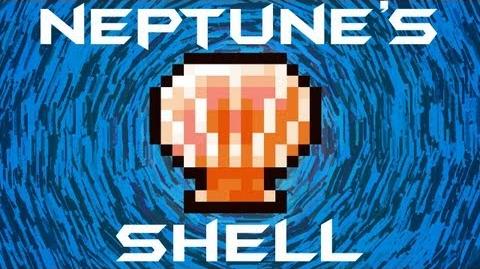 Notes
The Neptune's Shell does not work in lava, even when used in conjunction with an Obsidian Skin Potion. This is probably because one cannot drown in lava.
If both a Neptune's Shell and Moon Charm or Moon Shell are/is equipped while the player is underwater at night, the merfolk transformation overrides the werewolf transformation.
Oddly enough, you still transform when submerged in honey, though there is the regular slow down. This is probably because you can drown in honey.
Wearing a Fish Bowl will not transform the player, despite it could drown the player normally. However, in this case, the player doesn't drown.
While underwater, Wings will not show and hovering with wings like the Hoverboard cannot be used. All other accessories will be visible while transformed.
The head, body, and legs are affected by dyes put on their respective armor parts. Putting dye on the shell has no effect.
If the player equips it as a vanity accessory, they will look like a merfolk all the time.
Merfolk Buff tooltip: Can breathe and move easily underwater.
Drop rate: 2%.
Bugs
If the player goes directly from lava to water, they will not transform until they leave and re-enter the water.
Update Info
Now you can hide the transformation while keeping the bonuses, or put it in the vanity slots.