Nimbus Rod

Projectile created
Rain Cloud Moving

Rain Cloud Raining

Rain (friendly)

 Obtained from

 Classic

 Expert

 Master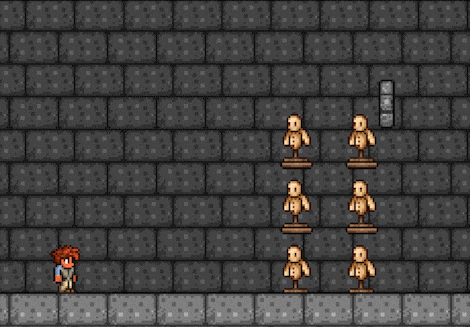 The Nimbus Rod is a magic weapon that creates clouds that cause damaging "rain" projectiles to fire downward. When cast, a cloud projectile is fired from the rod and travels towards the cursor. Upon reaching its destination or colliding with a solid block, the cloud stops and starts sending rain particles downward. Each drop of rain deals the weapon's stated damage and pierces through infinite enemies. Each cloud lasts for 1 minute. Up to two clouds can be spawned at once; using the weapon when there are already two active clouds will cause the oldest cloud to disappear.
The Nimbus Rod has a 6.67*1/15 (6.67%) chance of dropping from an Angry Nimbus, which spawns during rain.
Its best modifier is Demonic or Deadly for damage output, or Mystic for mana conservation because it cannot get modifiers that affect knockback. Because of the weapon's negligible mana cost, Demonic is usually preferred.
Notes
[
]
The clouds themselves cannot travel through solid objects like blocks or closed doors, but can pass through platforms and liquids.
In 1.3, firing a cloud on the top of a block will cause the rain drops to go through up to 3 blocks downward. However in 1.4, this is no longer possible.
The downward range of the Nimbus Rod is 95 tiles.
Tips
[
]
Trivia
[
]
It can be seen as a Hardmode upgrade to the Crimson Rod, which has a similar effect with lower damage.
The term Nimbus is an outdated term for the type of cloud now classified as the nimbostratus cloud. A nimbostratus cloud is a low, gray, often dark, amorphous, nearly uniform cloud that usually produces continuous rain or snow.
The rain from the Nimbus Rod travels at

51 mph

, the same speed as a falling player.
During a Blood Moon, the raindrops from Nimbus Rods will become red, like in the Crimson Rod.
History
[
]

 PC version
 Console version

 Nintendo Switch version

 Mobile version