The Old-gen console version of Terraria was published by 505 Games and developed by Engine Software. It is a port of the
 Desktop version, which is developed by Re-Logic. This version contains exclusive content not available on other versions, including enemies, achievements, music tracks and Music Boxes, armor, weapons, pets, and a boss, but most exclusive content is also available on the 3DS

 version.
The old-gen console version runs on four different console systems: the

,

,

Xbox 360, and

Wii U. Due to hardware requirement issues and memory constraints, this version cannot receive significant updates past the
 Desktop 1.2.4.1 equivalent.[1][2]
Console
Date of Last Update
Current Version
Desktop Equivalent
August 26, 2016
1.09
1.2.4.1
Xbox 360
Wii U
September 2, 2016[3]
1.08
1.2.4.1
Old-gen console-exclusive content
[
]
Most of the following content is also available on the 3DS

 version.
Japanese Release
[
]
Terraria was released in the PlayStation Network in Japan during May 2013. It was translated by Japanese video game development and localization company Spike Chunsoft.
Exclusive content
[
]
The Japanese console versions seem to have everything the U.S. console versions have, aside from Purple Thread and a purple Hero's set. They also have some extra exclusive costumes, crafted from the exclusive White Thread, shown below. The Japanese wiki mentions that the Japanese

also had Purple Thread, but has no page for it, so perhaps it was translated incorrectly.
Exclusive to

Trivia
[
]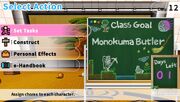 References
[
]
External links
[
]
Wii U store pages: