Onyx Blaster
Onyx Blaster

Projectile created
Onyx Blaster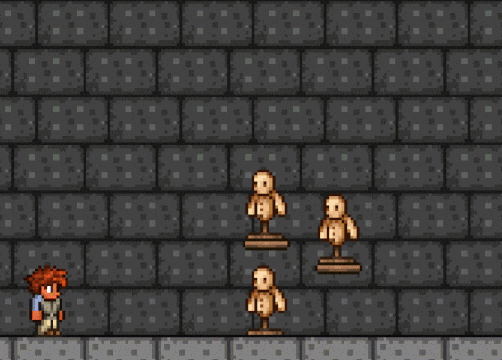 The Onyx Blaster is a Hardmode ranged weapon that fires a spread of 4 bullets while only consuming one unit of ammunition, and a single dark energy projectile that explodes upon impact with an enemy or a block, or after traveling for 40 ticks[1][2] (0.67 seconds; 35 tiles). The explosive projectile does
48 /


56 base damage, twice the listed damage of the weapon.
The Onyx Blaster is a direct upgrade to the Shotgun. It can be crafted before defeating any of the mechanical bosses.
Its best modifier is Unreal.
Result
Ingredients
Crafting station
Onyx Blaster
Mythril Anvil
or
Orichalcum Anvil

 Desktop version
Desktop 1.4.1:

Damage decreased from 28 to 24.
Use time increased from 45 to 48.

 Console version

 Switch version

 Mobile version
↑ A tick is a time unit countable by the software. Most of Terraria's updating logic happens every tick. A tick has the length of 1/60th of a second, hence there are 60 ticks in a second and 3600 ticks in a minute.
↑ Information taken from the  Desktop 1.4.1.2 source code, method SetDefaults() in Terraria.Projectile.cs. There may be inaccuracies, as the current  Desktop version is 1.4.2.1.