Paint is a type of decoration that can be applied to blocks with a Paintbrush, walls with a Paint Roller, and can be removed with a Paint Scraper. Paint and paint tools can be purchased from the Painter NPC.
Paintings
are also available to place onto walls as decoration.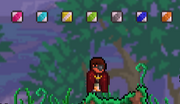 Tools
Standard
Spectre
Paint
​ Standard
Deep
Tips
Paint the door when the door is closed so only 3 buckets of paint is used to paint the whole door. If you paint when it is open, you need 6 buckets of paint to do so.
Update Info