Paintball Gun

Projectile created
Paintball
The Paintball Gun is a ranged weapon which has a 10*1/10 (10%) chance of being dropped by the Painter. It fires a three-shot burst of slow-moving, arcing projectiles which consume no mana or ammunition.
Its best modifier is Unreal.
Notes
[
]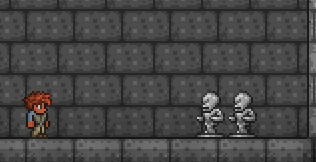 Tips
[
]
Though it is somewhat inaccurate at longer ranges, the respectable damage output, increased critical strike chance and lack of needing ammunition or mana makes the Paintball Gun a potent and reliable early-game weapon.
History
[
]
 Desktop version

 Console version

 Nintendo Switch version

 Mobile version