Pianos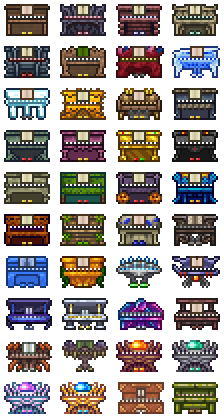 The Piano is a decorative furniture item. It counts as a flat surface item for the purpose of building a house. Bottles, Pink Vases, and Mugs can be placed on it and used as a Placed Bottle for crafting potions.
There are currently 34 / 27 / 15 /

10 craftable pianos, and 5 non-craftable pianos that can be found in the Dungeon, Ruined houses and Pirate Invasion event. Some pianos can also be found in Underground Cabins, in which they follow the theme of the cabin that they are found in.
Crafting
[
]
Recipes
[
]
Non-craftable Pianos
[
]
Piano
Notes

Blue Dungeon Piano

Found in the Dungeon. (  )

Green Dungeon Piano

Found in the Dungeon. (  )

Pink Dungeon Piano

Found in the Dungeon. (  )

Obsidian Piano

Found in Ruined houses, does not break from lava. (  )

Golden Piano

Dropped by Pirates.
Trivia
[
]
The Bones used in a Piano's crafting recipe likely refer to a piano's ivory keys; however, ivory consists of teeth or tusks, not bones.
Terraria's Pianos belong to the upright (or vertical) type; with the exception of the Frozen, Granite and Marble Pianos, which are grand pianos; and the Meteorite, Steampunk, Martian, Lesion, and the four Lunar Pianos, which vaguely resemble organs.

Because of this, objects placed on top of Granite and Marble Pianos may look like they are floating midair.

Unlike the other instruments in game, the pianos cannot be played.
History
[
]
 Desktop version
Desktop 1.4.0.1:

Spider, Lesion, Bamboo, Sandstone, Nebula, Solar, Stardust, and Vortex Pianos added.
Updated sprites for Skyware, Granite, and Marble Pianos. Objects placed on top of the latter two should now no longer look like they're floating midair.
Desktop 1.2.4: Blue Dungeon, Green Dungeon, Pink Dungeon, Golden, Obsidian, Bone, Cactus, Spooky, Skyware, Lihzahrd, Palm Wood, Mushroom, Boreal Wood, Slime, and Pumpkin Pianos added.

Dressers, Pianos, and Tables no longer emit particles when struck - you're not breaking them.
Ebonwood, shadewood, rich mahogany and pearlwood pianos sprites are updated.
Desktop 1.2: Added the ability to craft Pianos from other woods.

 Console version

 Nintendo Switch version

 Mobile version