Not to be confused with
Treasure Map
, a decorative furniture item.
The Pirate Map is a Hardmode item used to summon a Pirate Invasion. It has a 1% (1/100) chance of dropping from any enemy killed by the player within or close to an Ocean during Hardmode.
Notes
[
]
Duke Fishron can also drop Pirate Maps, with the normal 1% drop rate.
Although Pirate Maps can only be obtained in Hardmode, they can be used to summon Pirate invasions even in Pre-Hardmode worlds.
It requires the same minimum life as the Goblin Battle Standard (200) to be used
Tips
[
]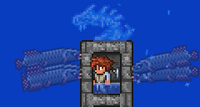 Perhaps the easiest way to farm Pirate Maps is to stay just above the Ocean water (water-walking boots or a small platform will work). Place a Water Candle nearby or keep one held in your hand (doing both provides no added benefit). Summon at least a few minions and simply wait overnight. The spawn rate, while usually dismal, will be amplified by the candles and night time. Simply collect the drops in the morning or as you see fit.
During a Blood Moon, especially with the above method, enemies will spawn at an even higher rate, averaging around every 2-3 seconds. This practically ensures you will get several Pirate Maps. Even without holding the candle, while your minions attack Ocean enemies for loot, you can double up by fishing during the Blood Moon, which can get you unique weapons, gathering tools, and the coveted Advanced Combat Techniques, as well as the Blood Moon Monolith, a unique item which (when activated), causes the immediate background to resemble the Blood Moon background. Keep in mind that while fishing, the extra spawn rate of your held candle won't be active.
Creating a Graveyard mini-biome near the Ocean by placing at least 6 tombstones in a small area will raise enemy spawn rates even during the day, allowing quick farming.
Trivia
[
]
The Pirate Map plays the same sound as the boss-summoning items (Suspicious Looking Eye, Mechanical Skull, etc.) when used.
The Guide mentions the Pirate Map in a tip after entering Hardmode: "I think I saw a treasure map floating around in the ocean once, but a shark ate it. Maybe you should go try and find one?"
The picture shown of the Arapaimas being aggravated towards the player in a box no longer work as of Journey's End. Similar methods do work however, so look around for them on Youtube.
History
[
]
 Desktop version

 Console version

 Switch version

 Mobile version