Not to be confused with
Treasure Map
, a decorative furniture item.
The Pirate Map is a Hardmode item used to summon a Pirate Invasion. It has a 1% (1/100) chance of dropping from any enemy killed by the player within or close to an Ocean during Hardmode.
Notes
[
]
Bosses can drop Pirate Maps, with the normal 1% drop rate.
Although Pirate Maps can only be obtained in Hardmode, they can be used to summon Pirate invasions even in Pre-Hardmode worlds.
It requires the same minimum life as the Goblin Battle Standard (200) to be used
Tips
[
]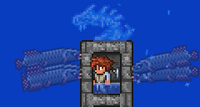 Trivia
[
]
The Pirate Map plays the same sound as the boss-summoning items (Suspicious Looking Eye, Mechanical Skull, etc.) when used.
The Guide mentions the Pirate Map in a tip after entering Hardmode: "I think I saw a treasure map floating around in the ocean once, but a shark ate it. Maybe you should go try and find one?"
History
[
]
 Desktop version

 Console version

 Nintendo Switch version

 Mobile version