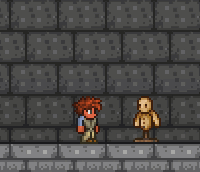 The Purple Clubberfish is a melee weapon that can be obtained by fishing in the Corruption. Chance to catch it is 1/50 with 50% Fishing Power and 1/25 with 100% Fishing Power. It swings like a sword and can be obtained relatively easily early-game.
Its best modifier is Legendary.
Tips
[
]
The Purple Clubberfish is a decent catch, but it is outshined by the Rockfish, which deals the same amount of damage, attacks faster, and doubles as a Hammer. It also has the same catch rate as the Clubberfish but can be fished in the regular Underground area, making it a more viable option.
Trivia
[
]
History
[
]
 Desktop version