"Matriarca de las colmenas de la selva..."

Abeja reina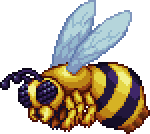 Classic

 Expert

 Master
Interno

PNJ CI

: 222
Interno

Bufo CI

: 20
La Abeja Reina es un jefe del Pre-Difícil. Ella es convocada rompiendo una Larva dentro de Colmenas de Abejas en la Jungla Subterránea, o por usar una Abejaminación adonde sea dentro de la Jungla. Ella puede infligir la desventaja de Envenenado.
While Abeja reina is alive, the music Jefe final 5
will play. When Otherworldly music is enabled, the track Boss 1 (Otherworldly)
will play instead.
Ataques
[
]
La Abeja Reina tiene tres patrones de ataques distintos:
Ella se nivelara horizontalmente con el jugador y volara de ida y vuelta tres veces en un intento de golpear al jugador.
Ella convocara

Abejas

mientras vuela (que incluirá mas grandes en Modo Experto), que atacara al jugador. Durante este tiempo las variables de cuantas abejas convoca puede ser de 6, 12 o 18.
Similarmente a los

Avispones

, la Abeja Reina rápidamente disparara aguijones venenosos al jugador. Durante este patron, ella alternara de estar flotando encima del jugador, y posicionándose para arremeterse al jugador desde encima.
En Modo Experto, la velocidad de estos ataques incrementan cuando la Abeja Reina recibe daño.
Cuando se pelea afuera de la Jungla Subterránea, la Abeja Reina se enoja, causando que sus movimientos sean mas agresivos y disparar aguijones a una velocidad mas alta.
Cuando se pelea en la superficie de la Jungla, Abeja Reina todavía entrara a su estado enojada con ataques mas rápidas y mas agresivas. Sin embargo, este estado de enojo es menos agresivo que si el jugador la hubiera peleado en cualquier otro bioma de superficie, como el Océano.
Notas
[
]
En la  Versión de PC, Abeja Reina no desaparecerá cuando está muy lejos del jugador.

Esto quiere decir de que si el jugador usara un Espejo Mágico o cualquier otro de sus variantes la Abeja Reina lo perseguirá devuelta a su punto de aparición no importa la distancia y dependiendo del punto de aparición, probablemente se enojara y lo más seguro matara al jugador.
En multijugador, si todos los jugadores que estaban peleando Abeja Reina se muere a la misma vez, la Abeja Reina perseguirá los otros jugadores aunque estén cienes o miles de bloques lejos y solo cambiara de victima cuando se muere su objetivo actual.

La única manera de propiamente desaparecerla aparte de matarla seria si todos los jugadores del mundo se mueran de una.