The
Reaver Shark
is a pre-
hardmode
Pickaxe
that can be obtained in the
Ocean
while
fishing
. It's strong enough to mine
Meteorite
and
Crimtane
/
Demonite ores
.
Notes
This is a solid pickaxe, being one tier higher than the Gold Pickaxe , though one tier lower than the Deathbringer /Nightmare ones.
Prior to the 1.4 update, it used to be the strongest pickaxe in pre-hardmode, being strong enough to mine Cobalt and Palladium. With the nerf, it now can only mine up to Meteorite.
Even with the nerf, it is still recommended to get it rather than crafting a Gold/Platinum pickaxe, as it saves up resources and time spent spelunking.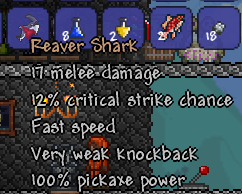 Update Info
Pickaxe power reduced from 100% down to 56%.
Critical strike chance reduced from 12% to 4%.
Use time increased from 18 to 22.
Pickaxes & Drills
Standard Pickaxes
Copper Pickaxe

Tin Pickaxe

Iron Pickaxe

Lead Pickaxe

Silver Pickaxe

Tungsten Pickaxe

Gold Pickaxe

Platinum Pickaxe

Nightmare Pickaxe

Deathbringer Pickaxe

Molten Pickaxe

Cobalt Pickaxe

Palladium Pickaxe

Mythril Pickaxe

Orichalcum Pickaxe

Adamantite Pickaxe

Titanium Pickaxe

Chlorophyte Pickaxe

Spectre Pickaxe

Picksaw
Nebula Pickaxe
Solar Flare Pickaxe
Stardust Pickaxe
Vortex Pickaxe
Drills

Cobalt Drill

Palladium Drill

Mythril Drill

Orichalcum Drill

Adamantite Drill

Titanium Drill

Chlorophyte Drill

Drax

Nebula Drill
Solar Flare Drill
Stardust Drill
Vortex Drill
Special Digging Tools
Cactus Pickaxe
Bone Pickaxe
Candy Cane Pickaxe
Reaver Shark
Pickaxe Axe
Shroomite Digging Claw
Community content is available under
CC-BY-SA
unless otherwise noted.