Red's Throw

Projectile created
Red's Throw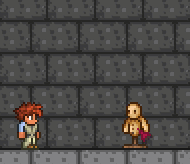 Red's Throw is a Expert Mode-exclusive yoyo. It is obtainable from any Hardmode boss's Treasure Bag (except for queen slime) as part of Red's set. Like certain other yoyos, Red's Throw can be held in the air indefinitely.
Its best modifier is Godly or Demonic. Both modifiers increase the average damage output by the same amount.
Trivia
[
]
It shares the same stats as the Valkyrie Yoyo.
It shares the same color scheme as Red's set.
Since developer sets can be obtained in Pre-Hardmode on the CelebrationMK10 world, this could theoretically be the first yoyo you obtain.
History
[
]
 Desktop version

 Console version

 Nintendo Switch version

 Mobile version