Robot Hat


 Obtained from

 Classic

 Expert

 Master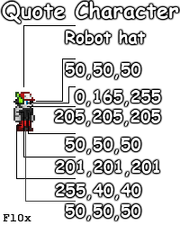 The Robot Hat is a vanity item equipped on the Social Helmet Slot. It has a 0.4*1/250 (0.4%) chance to drop from Piranhas and Angler Fish.
Trivia
[
]
The Robot Hat appears to be a reference to the hat worn by Quote, the protagonist from the action-adventure platforming video game Cave Story, as seen here. While the Terraria sprite does resemble the Cave Story sprite, the resemblance is more apparent in official Cave Story artwork and depictions in the credits of Cave Story.
The Robot Hat dropping from the Piranhas might be a reference to Ironhead, a Piranha-like boss in Cave Story.
The Robot Hat, the Lamia Mask and the Hero's Hat are the only vanity items that appear to change the character's hairstyle.
History
[
]
 Desktop version

 Console version

 Nintendo Switch version

 Mobile version