Rotten Egg
Rotten Egg



Statistics
Type
Damage
13 / 10   (Ranged     / Throwing )
Knockback
6.5

(Strong)

Consumable

✓

Critical chance
4%
Use time
19

(Very fast)

Velocity
9
Tooltip

Best used for pranking townsfolk

Rarity
Research
99 required
Projectile created
Rotten Egg

 Dropped by

 Classic

 Expert

 Master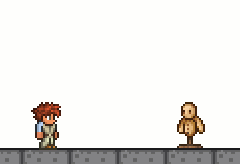 Rotten Eggs are consumable



ranged /

throwing weapons obtained commonly from Goodie Bags, which are dropped during the Halloween season, and shaking trees

during that time. They explode on impact, with no chance of being retrieved.
Rotten Eggs are unique in that they are the only player-wielded weapons that can damage friendly NPCs by default. (The Clothier and Guide Voodoo Dolls allow killing their respective NPCs, but are not wielded as weapons.) They are a slow but effective way of killing NPCs.
Rotten Eggs benefit from



ranged /

throwing damage and critical strike chance bonuses.
 Desktop version

 Console version

 Switch version

 Mobile version