Obtained from

 Classic

 Expert

 Master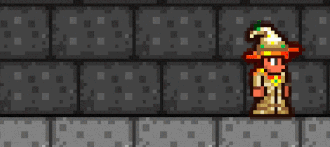 The Rune set is a Hardmode vanity set consisting of the Rune Hat and Rune Robe. Both pieces are always dropped by the Rune Wizard, a rare Underground Hardmode enemy. Wearing the full set causes the player to emit a pulse effect, as well as a bright orange and green particle effect from their feet when walking. The particles are visible in darkness but do not emit light onto other objects.
Set
[
]
Notes
[
]
Boots worn while the Rune Robe is equipped will not appear visible on the character.
Equipping the Rune Hat creates a small "shadow" of a few pixels under the character icon on the minimap. The Wizard Hat also does this.
Trivia
[
]
Unlike the Wizard Hat, dropped by Tim, who appears to be a pre-Hardmode equivalent of the Rune Wizard, the Rune Hat and Rune Robes do not grant any stats when equipped in the armor slot.
The Rune Hat is a recolor of the Wizard's Hat.
History
[
]
 Desktop version

 Console version

 Nintendo Switch version

 Mobile version