The
Safe
is an item you can purchase from the
Merchant
after you have defeated
Skeletron
. It works as a separate private storage, just like the
Piggy Bank
and is separate additional storage from the
Piggy Bank
. It is able to hold items, just like any ordinary
chest
, except the safe's contents can only be accessed by the user who deposited the items. Buying another safe will not let you put more items in, but will allow you to transport items over long distances. This can be extremely useful when moving items from a single player world to another, or to a multiplayer world. Also, unlike the
Piggy Bank
, it can be placed on any surface. As of 1.3, any
Coins
stored in the safe count toward the player's savings, and can be spent directly out of the safe without being carried by the player.
Notes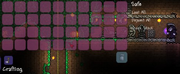 If you can farm a Money Trough from the Blood Moon event, you can store a Safe inside of it to have a transportable 78 extra slots (two slots being used by the Money Trough as well as Safe).
A rumor stated that the Safe was added because players complaining running out of inventory space when looting in the dungeon.
Defeating Skeletron is required for the Merchant to have the Safe in stock.
Like Piggy Banks, Safes cannot be looted by other Players on a multiplayer map. Sure, they can steal the safe, but a character's safe contents cannot be stolen by others.
Safes can be used to expand your inventory by 39 units, meaning that you can put the important things in there, while you can carry the rest of the stuff.
Update Info
Right-clicking to open a Chest, Piggy Bank or Safe will no longer pick up an item from the stack where the cursor is located.
Piggy Bank and Safe now correctly stack coins when using "Quick Stack".
Community content is available under
CC-BY-SA
unless otherwise noted.