Sinks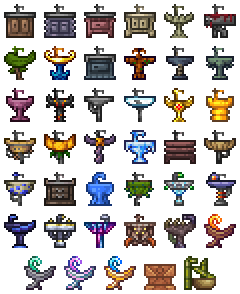 The Sink is a decorative Furniture item that is also a crafting station. It does not fulfill a House's Flat Surface or Comfort item requirement.
The Sink can be used to craft items that require the Water crafting station.
There are currently 41 / 33 Sink types, all being functionally identical.
Crafting
[
]
Recipes
[
]
Noncraftable Sinks
[
]
Used to craft
[
]
Water
or
Sink

Result
Ingredients
Bottled Water
Coralstone Block

(5)

(   )
Mud Block
Wet Bomb

Wet Rocket
Crystal Ball and Water
or
Sink

Result
Ingredients
Magic Water Dropper

Water Candle (    )
Waterfall Block
Sky Mill

and Water
or
Sink

| Result | Ingredients |
| --- | --- |
| Rain Cloud (    ) | |
Notes
[
]
Despite its name, the Obsidian Sink is only made with Hellstone.
Despite being a gold furniture item, the Golden Sink has the same sell price as the regular sinks.
Trivia
[
]
The Crystal, Granite and Lesion Sinks are the only ones to face to the left.
The Lihzahrd Sink is the only sink to face both ways.
The Sandstone Sink is the only sink without any visible pipes or faucets.
The Spider Sink is named SpiderSinkSpiderSinkDoesWhateverASpiderSinkDoes in the source code, in reference to "Spider-Pig," the The Simpsons Movie spoof of the 1960s Spider-Man theme song.[1]
The Bamboo Sink might be based on the sōzu (添水), a type of water fountain made of bamboo that is often installed in Japanese gardens. It was originally used to scare away animals that might eat the garden plants, but now is mostly used to add visual and aural ambience.

Alternatively, it might be based on the tsukubai (蹲踞), which is a washbasin with a bamboo pipe found at the entrances to holy places in Japan. These are used by visitors to purify themselves before entering said places, by doing a ritual consisting of hand washing and rinsing of the mouth.

The bamboo sink may also be based on a tropical rain filter.
History
[
]
 Desktop version
Desktop 1.4.0.3: Obsidian Sink now requires both Obsidian and Hellstone to craft.
Desktop 1.4.0.1:

Spider, Bamboo, Lesion, Sandstone, Nebula, Vortex, Solar and Stardust Sinks added.
Skyware Sink item and placed sprites updated.
Obsidian Sink now uses Obsidian to craft.

 Console version

 Nintendo Switch version

 Mobile version
References
[
]