Not to be confused with Skeletron. For the Hardmode variants, see Armored Skeleton and Heavy Skeleton. For the Dungeon variants, see Angry Bones, Blue Armored Bones, Hell Armored Bones and Rusty Armored Bones.
Skeletons are one of the Monsters that spawn underground in the stone layer. They have a 4% (1:25 chance) to drop Hooks, which are important to create the Grappling Hook. They may run away when their health is below 15 HP.
Skeletons from statues won't drop money, but will still drop hooks and other items.
As of version 1.2, Skeletons now have several new textures and slight variance in health, much like other common enemies, such as the Zombie. They also have a chance to drop the Bone Sword, Ancient Iron Helmet, Ancient Gold Helmet, and Skull items.
Behavior
Skeletons generally make more or less directly for the player, walking along surfaces and attempting to jump over gaps and obstacles in their path. If a Skeleton cannot get to the player for a certain period of time, he will change directions.
This pattern will cycle as the skeleton continues to try to find a clear path. Skeletons continue alternating directions until he either walks off the screen or is killed. If he manages to walk off the screen, he will despawn automatically.
Skeletons can break down a Door even when it is not currently a Blood Moon, but since they only spawn in the stone layer, it shouldn't be a problem if you build a house on the surface.
If you make a Hellevator and you leave parts open from caves you run into, a skeleton may fall into the shaft above you making it hard to kill for weaker players.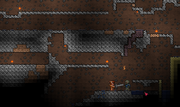 Update Info
Now has a chance to drop Skeleton Banner.
Now has a chance to drop Bone Swords, Ancient Iron Helmets, Ancient Gold Helmets and Skulls.
Added many new graphical variations.
Graphics have been changed.