Slimer
is a flying member of the
Slime
family that appears only after
Hardmode
has been enabled. It only spawns in areas overtaken by the
Corruption
, but can be found both below and above ground.
This monster appears to be a purple orb with wings, and will hover sluggishly around the player's head in a fashion similar to that of a Vulture. It is relatively weak, having only 60 health in its flight form. Its wings will be destroyed when it is initially "killed".
Once a Slimer is wingless, it will start out with a new health pool of 90, and behave like any other slime, including the usual drops of Gel and coins.
Notes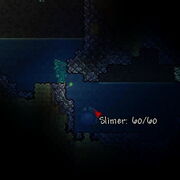 Slimers can go into water when they have their wings, while they cannot do so after losing them.
If Slimers lost their wings underwater, they will be able to jump once, like a slime, but the consequent jumps will make it float to the surface of the water.
In total, this monster has 150 health, separated into two forms.
Trivia
Its wings look exactly like the Demon Wings, although it does not drop them on death.
This is the only Slime that is able to fly. Although the Gastropod looks like a slime and can drop gel, the Lack of the ability to jump, it's ranged attack, and the Spectral Gastropod disproves this.
Update Info
Community content is available under
CC-BY-SA
unless otherwise noted.