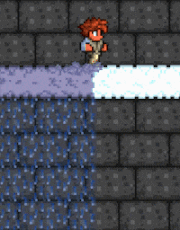 Snow Cloud is a type of block that can be crafted at a Sky Mill from Cloud blocks in the Snow biome. Snow Cloud blocks cause purely decorative snowflakes to appear beneath them, continuing for about 8 tiles and then fading away for 5 more. On the
 Desktop version,

 Console version,

 Mobile version, and

 Nintendo Switch version, landing on Snow Clouds will not inflict fall damage.
In drunk worlds, Snow Clouds are generated naturally as part of snow-themed Floating Islands.
Crafting
[
]
Recipes
[
]
Notes
[
]
Tips
[
]
Trivia
[
]
History
[
]
 Desktop version

 Console version

 Nintendo Switch version

 Mobile version