Sofas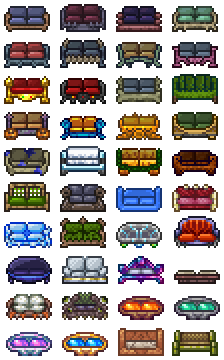 Sofas are vanity furniture items. There are currently 35 / 27 / 23Verify craftable sofas and 5 noncraftable sofas. All are functionally identical, and differ only in their appearance. Sofas count as a comfort item, which is one of the required elements in order to make a house for an NPC.
Players can sit in sofas by pressing the ⚷ Open / Activate button on them. Players can choose to sit on the left, middle, or right positions, and thus up to 3 players can sit on a sofa at a time. Sitting on sofas gives a boost to health regeneration, similar to chairs and beds.
Crafting
[
]
Recipes
[
]
Noncraftable Sofas
[
]
Trivia
[
]
The Crystal Sofa is referred to as CrystalSofaHowDoesThatEvenWork in the game's internal files.
The Dynasty Sofa's sprite is the only one that doesn't have a backrest.
See also
[
]
History
[
]
 Desktop version
Desktop 1.4.0.1:

Skyware Sofa item and placed sprites updated.
Spider, Lesion, Bamboo, Sandstone, Nebula, Solar, Stardust and Vortex Sofas added.
Players can now sit on sofas. Sofas can accommodate up to 3 players.