The
Solar Flare Armor
set is a hardmode, melee based armor set from the Lunar Event. Each piece of the set provides bonuses to melee, equal to +22% melee damage, +17% melee critical strike change, +15% melee speed and +15% movement speed.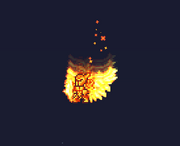 When one piece is equipped, the armor is dim. As more set pieces are put on, it gets brighter. The fiery glow of the armor provides a small amount of light around the player. It is also one of the four endgame Luminite sets, along with the Vortex Armor, Nebula Armor, and Stardust Armor.
The set bonus give the player the ability to dash. The dash will pierce enemies, but will not burn them.
Overview
The Moon Lord will need to be defeated 2-3 times to collect enough Luminite to craft the set.
Parts of the Set
24 defense
17% increased melee critical strike chance
34 defense
22% increased melee damage
20 defense
15% increased movement and melee speed
Update Info
Now only consumes flare charges when an enemy is hit.