For the thrown weapon, see Spiky Ball.
A
Spike Ball
is a
dungeon
trap on a chain which acts like a
flail
. Only the ball does damage, so they can be avoided by standing at the origin of the ball (as shown in the picture) and allowing it to swing around you until you can jump past it, continuing through the dungeon.
After appearing they constantly swing in a circle, and are able to move through blocks. The length of the chains they spawn on is randomized. The Spike Ball is immortal, like the Blazing Wheel and can not be broken or picked up by removing blocks at the base. It can randomly despawn/respawn off-screen at any time.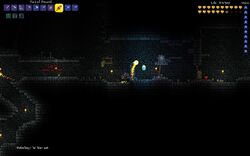 Notes
If the block the spike ball is attached to is destroyed, the spike ball will remain, and won't be affected in any way.
It is possible to kill a spike ball, but only by using a thorns potion, lava, or a minecart. This is dangerous and also not advised since it doesn't give any drop.
The spike ball only spawns in area's marked with the Rusted Company Standard.
On the mobile version, occasionally the ball's center point is off, causing it to swing around in odd ways.
Update Info