The Star Cloak is an accessory found only as a drop from the Mimic. When equipped, it causes three stars to fall from the sky (similar to the stars the Starfury summons) whenever the player takes damage (except by drowning). These stars will pass through blocks (excluding Hellstone) until they reach the height of the player, at which point collision with blocks will make them disappear.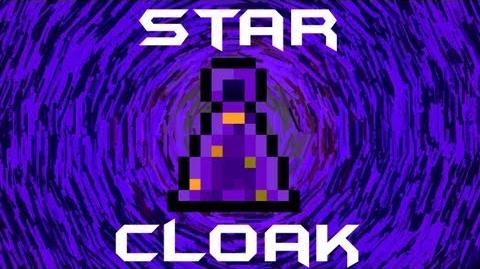 Notes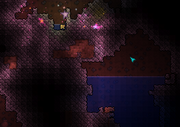 If used in conjunction with a Cross Necklace and Cobalt/Obsidian Shield, the Star Cloak could potentially be considered a more powerful Starfury with infinite mana.
There is a trick that can be done with the Star Cloak and a block of Sand/Silt, commonly referred to as illumination. Put a block of sand above your head with the Star Cloak on, and when it falls on you, stars will fall all around as you take damage. They give off light, so if you wait until you take 4 or 5 bits of damage from the sand, lots of the ground below you will become lit up. An example is in the picture to the right.
Another trick, similar to the one above, is used to kill enemies. Find a spot below them, and drop some sand or silt above you. The stars will fall and hit any enemies above you.
It is a very rare bug, but the Star Cloak can appear in Floating Islands chests.
Star cloaks are also excellent ways to discover hidden or unadjoining rooms, such as jungle chest rooms underground. When the player is damaged, the stars trailing from the sky can help you discover new areas. 
If you are struck in a dark room with enemies this item can light up the whole room for you.
Update Info
Community content is available under
CC-BY-SA
unless otherwise noted.