The
Stardust Pillar
is one of the four pillars that spawns after defeating the
Lunatic Cultist
.
The shield around the Stardust Pillar will be lowered after 100 (150 in Expert) enemies like Star Cells are killed near the pillar, allowing the player to damage and destroy the pillar. Exiting the game will reset this count.
Stardust Pillar Mobs
Strategy
This pillar, along with the Nebula, is one of the easiest of the four pillars to fight early on. The main enemies you'll face while fighting it will be the Cells, the Milky Weaver and Flow Invader.
It follows a similar strategy of the Nebula pillar, which revolves around kiting the enemies around while lowering its shield. The Cells are quite slow, but if the player overlooks them, they will become more numerous, and with their health and density, they may block out projectiles without piercing abilities. The Flow Invaders will be constantly firing projectiles, but they can be easily avoided by keeping distance and dodging them away. The Stargazer and Twinkle/Twinkle Poppers are easy to deal with, because they will only attack if the player stays above their position and if using wings, they won't be as much of a problem as the Cells. The Milky Weaver can be a nuisance, but they are easier to deal with than
Crawltipedes
, just shoot at their head segment, as they can't be damaged anywhere else. When the shield vanishes, proceed to attack the pillar down. Keep in mind to also take away the enemies around it, mainly the Cells, as they deal high damage and can overwhelm the player if they weren't taken out earlier. Once it's defeated, the resulting fragments can make two endgame summoning weapons: The
Stardust Dragon Staff
and
Stardust Cell Staff
, which can be used against the remaining pillars.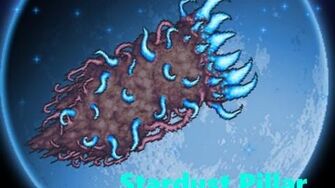 See Also
Update Info
Community content is available under
CC-BY-SA
unless otherwise noted.