The Starfury is a sword that, when swung, will summon a star from the sky. The damage caused by the falling star is approximately 45-58. The Starfury can be found in Skyware Chests in Floating Islands. This is the pre-hardmode version of the Star Wrath.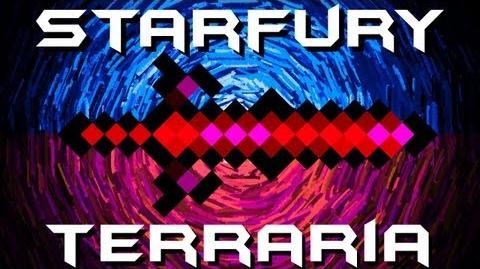 The Starfury is very useful for defeating large hordes of enemies, thus making it useful during Blood Moons or Goblin Invasions.
Notes
The stars can be mildly controlled, as they will roughly pass through where the mouse is when clicked. Therefore, one can aim higher or lower, which can be useful to hit things over a wall. They also move from the character's back to front in a downward angle. (However, this cannot be used to aim, as the character will automatically turn in the direction that the pointer is, even if facing the other way.)
These stars emit light while in the air, or before hitting a wall or floor.
The stars actually deal magic damage so if full spectre armor (With hood) is equipped the stars can heal the user.
The best prefix for this weapon is "Legendary".
Update Info
Changed sprite and now only summons 1 star (which does 45-48 damage).
Can no longer rapidly swing – has a short cooldown after shooting during which it cannot be swung or switched.
No longer uses mana.
Stars spawned by this weapon will now pass through solid blocks until they reach empty space if they spawn in said blocks.
Gallery
Community content is available under
CC-BY-SA
unless otherwise noted.