Swordfish
Swordfish

Projectile created
Swordfish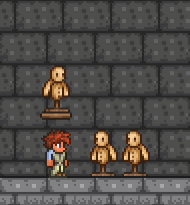 The Swordfish is a spear obtainable through fishing in the Ocean biome. Chance to catch it is 1/60 with 50% Fishing Power and 1/30 with 100% Fishing Power.
Its best modifier is Godly or Demonic. Both modifiers increase the average damage output by the same amount.
Due to how big the sprite of the weapon is, it appears to go through the player's shoulder when attacking with it.
This weapon is easy to acquire early, relative to its strength, and can sustain new players for a good while.
Although, due to the short range, it is not advisable to bring into tougher battles.
 Desktop version