Tables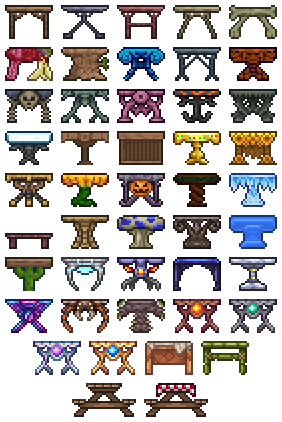 Tables are furniture items which can be placed on the ground, commonly used in conjunction with chairs. They count as a flat surface item, which is one of the required elements in order to make a house for an NPC. They can also form a crafting station when combined with a chair.
There are 40 / 30 craftable tables, and 6 tables that must be looted from specific areas within the world. Some tables can also be found in Underground Cabins, in which they follow the theme of the cabin they are in.
Recipes
[
]
Noncraftable Tables
[
]
Used to craft
[
]
Notes
[
]
Unlike all other tables, the Dynasty Table is only 1 tile high. However, its counterpart, the Dynasty Chair, is still 2 tiles high.
The Picnic Table and the Fancy Picnic Table count as both a table and a chair for the purpose of NPC housing, but only as a Table for the purpose of crafting.[1]
The Frozen Table is not affected by Ice Skates when stood on.
History
[
]
 Desktop version
Desktop 1.4.0.1: Fancy Picnic Table, Picnic Table, Spider, Lesion, Bamboo, Sandstone, Nebula, Solar, Stardust and Vortex Tables added.
Desktop 1.2.4:

Boreal Wood, Palm Wood, Mushroom, Cactus, and Slime Tables added. The Banquet Table and Bar can now be used as crafting stations like other tables (possibly 1.2.3).
Dressers, Pianos and Tables no longer emit particles when struck.
Desktop 1.2.3: Living Wood, Skyware, and Lihzahrd Tables were made craftable, and crafting stations for older tables changed. Frozen and Dynasty table added.
Desktop 1.2: Ebonwood, Pearlwood, Shadewood, Flesh, Obsidian, Gothic, Blue Dungeon, Green Dungeon, Pink Dungeon, Bone and Skyware Tables were added.

 Console version

 Nintendo Switch version

 Mobile version
References
[
]