Dropped by

 Classic

 Expert

 Master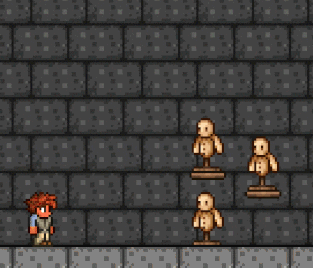 The Tactical Shotgun is a Hardmode, post-Plantera ranged weapon. It is an upgraded version of the Shotgun, auto-firing six spread shots per bullet consumed (against the Shotgun's average of four), for a possible combined base damage of 174 per bullet spent (not including bullet damage stats which are then added). It has a 8.33% / 15.97% (1/12 / 23/144) chance to drop from Tactical Skeletons in the post-Plantera Dungeon.
Its best modifier is Unreal.
Achievements
[
]
Robbing the Grave

 •

"

Obtain a rare treasure from a difficult monster in the dungeon.

"
Tips
[
]
Trivia
[
]
The Tactical Skeleton's shotgun in the sprite does not appear to have the drum magazine or scope, making it more closely resemble the Shotgun.
Despite appearing to have a scope, the Tactical Shotgun has no inherent zoom capability like the Sniper Rifle.
While the Tactical Shotgun is automatic, the Tactical Skeleton enemy that drops it seems to wield a significantly slower, semi-automatic version.
The drum magazine on the sprite perhaps alludes the fact that it auto fires.

However, like most ranged weapons in the game, it does not require a reload and can fire until all bullets are used up, which would have rendered the drum magazine redundant.
Despite being automatic, it still fires rather slowly.

The Tactical Shotgun bears similarity to the Shotgun, but with more cosmetic attachments and a more metallic structure.
The Tactical Shotgun is one of only eleven guns in Terraria to share its name with a real gun, the others being the Uzi, Shotgun, Sniper Rifle, Revolver, Chain Gun, Flintlock Pistol, Red Ryder, Musket, Handgun and the Quad-Barrel Shotgun.
History
[
]
 Desktop version

 Console version

 Switch version

 Mobile version