Terragrim
Terragrim

Projectile created
Terragrim
The Terragrim is a rare pre-Hardmode melee weapon that appears to be a sword, but does not present an actual blade when used. Instead of an overhead broadsword swing or a shortsword stab, the Terragrim autoswings and appears as a series of blurred slashes aimed in the direction of the cursor. Anything within this area takes constant damage at a rate far exceeding the weapon's stated use time. This damaging area has a rather wide spread, even attacking behind the player for a very short distance.
The background object
It is obtainable from the unique background object found in an Enchanted Sword Shrine or very rarely in the Caverns layer. When the object is destroyed, it has a 2*1/50 (2%) chance to drop a Terragrim rather than an Enchanted Sword.
The Terragrim's unique means of attack is unaffected by any size and speed modifiers.
Its best modifier is Godly or Demonic. Both modifiers increase the average damage output by the same amount. Note that this and Arkhalis are the only swords unable to obtain the Legendary modifier.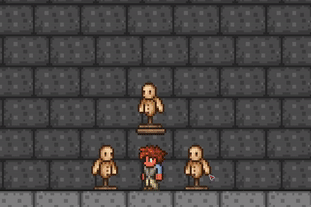 Desktop version

 Mobile version