Terraria is available for download from the Amazon Appstore, the iTunes App Store, the Android Google Play Store, or the Windows Phone Store for $4.99 or £2.99 in Great Britain.
The version of Terraria available on mobile devices is a simplified version of what is available on the PC and
Consoles
. It is currently the equivalent of the desktop version PC
1.3.0.7
. Local Multiplayer in mobile versions was released on the 7th of November, 2013. Online multiplayer was released on the 27th of August, 2019.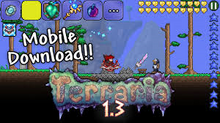 Exclusive Content
The mobile versions of Terraria used to contain content that was not available for PC or Console players. It was removed in 1.3. This includes:
Mobile Version History
Bugs/Glitches
Go here for a complete thread listing the current bugs and glitches, feel free to contribute if needed, as our knowledge of the mobile game is still growing.
Community content is available under
CC-BY-SA
unless otherwise noted.