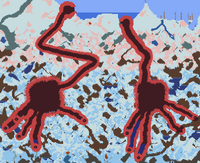 Ayrıca bakınız:
Crimson Yeraltı
 "Dünyayı kanlı yapmak..." 
Crimson, karşılığı olan koyu mor temalı Corruption'un aksine kırmızı bir vahşet temasına sahip olan Şeytani bir biyomdur. Her dünya rastgele bir şekilde bunlardan birine sahip olur (her biri %50 şansla) ya da dünya yaratılırken oyuncu tarafından seçilir ( sadece herhangi bir dünyada Wall of Flesh'i yendikten sonra). İkiside benzer tehlikelere sahiptir ve kendine özel düşman, eşya ve bloklara sahiptir. Crimson materyalleriyle yapılan alet, silah ve zırhlar genelde Corruption materyalleriyle yapılanlara karşın avantajlara sahiptir; fakat, Corruption aletleri biraz daha hızlıdır. Crimson düşmanlarının istatistikleri biraz daha yüksektir, can, defans ve hasar gibi.

Crimson'un birden fazla yarığı vardır, biyomun yeraltına bağlantıları. Her yarığın yeryüzünde bir girişi vardır ve geniş, yuvarlak bir oyuğa bağlıdır, bunlar ise bir Crimson Kalbiyle sona eren küçük "parmaklara" ayrılır. Crimson Altaları genellikle yarığın geçişlerinin hizasında olur, içinde ve ya etrafında belirir. Yarıklar Kızıltaşdan meydana gelir, ve bunlar Patlayıcılarla yok edilebilir, Nightmare/Deathbringer kazma ve daha iyisiyle kazılabilir, ya da Arıtma Tozuyla saf Taş formuna getirilebilir.
Crimson yayılır, yani yavaşça yanındaki blokları Crimson türlerine dönülştürürür. Detaylar için buraya bakın. Yarıklar, Crimson Altarları, and Crimson Kalpleri sadece dünya oluşurken oluşur, ve yayılarak oluşan bir Crimson bölgesinde görülmez. Eğer yeterince Crimson yeni bir bölgeyi ele geçirirse, o zaman o bölge nihayet Crimson'un müziği, arkaplanı ve su rengine sahip olur. Bir bölgenin Crimson olarak sayılması için, en az 300 / 200 blok Crimson çimeni ve Crimson bloğu mevcut olmalıdır. Dikenli çalılar çimenin üstünde yetişmeye başlayacak ve oyuncu dokunduğu zaman ona hasar verecek.
İçerik
[
]
Not: Zormod ve yeraltının altında bulunan katmandaki düşmanları görmek için Crimson yeraltı sayfasına gidiniz.
Yayılma
[
]
Zormod öncesi Terraria Dünyalarında, Kızıllaşma Biyom'u yayılabilir lakin bazı koşullarla sınırlıdır:
Kızıllaşmış Çimen

normal çimene benzeyerek yayılabilir, yani en az bir tarafı havaya açılan bitişik

Toprak

fayanslarını Kızıllaşmış Çimen'e çevirir. (Sadece Yer üstü Katmanı için geçerlidir.)
1.2.4.1 versiyonuna kadar çimenin üzerine

Ayçiçeği

dikmedikçe Kızıllaşmış Çimen normal çimen yerine de geçebiliyordu.
Kızıllaşmış Çimen, kendine benzer bir şekilde yayılan Dikenli Çalılık'ları filizleyebilir.
Doğal bir şekilde meydana gelen Kızıllaşma Biyom'u keşfetmeden önce çeşitli doğal bariyerler (taş, kum, vb.) kullanılarak durdurulabilir, fakat yapay bir Kızıllaşma Biyom'u oluştururken istediğiniz miktarı aşmamasına dikkat etmelisiniz.
Tüm Kızıllaşmış Blokları arıtırsanız, Orman Perisi ile dünyanın durumu hakkında konuşunca, size "(Dünyanızın adı) tamamen saflaştırılmış. Şaşırtıcı derece de iyi bir iş yaptın." diyecektir.
Hardmode
[
]
Bir defa Et Duvarı'nı yenerseniz, dünyanız Hardmode'a geçiş yapar. Hardmode'a geçiş yaptığınız gibi hemencecik Yeraltı'ndan Yer Üstü'ne kadar genişleyen yeni Kızıllaşmış ve Kutsal topraklar meydana gelir bazen Kızıllaşma Biyom'u ile de kesişebilir. Artık Kızıllaşma Biyom'u daha tehlikeli yaratıklar meydana getirmeye başlar. Bu düşmanlara Herpling, ve Yozlaşmış yeraltı'da da İrin Yapıştırıcı örnek verilebilir.
Dünyanız Hardmode'a geçiş yaptığı zaman Kızıllaşma daha agresif bir tutum sergileyerek yayılır:
Kızıllaşma; çimen, diken ve bitkilere ilaveten

Kızıllaşmış Taş

,

Kızıllaşmış Kum

ve

Kırmızı Buz

'da meydana gelir.

Çamur

artık toprağa dönüştürülebilir.

Orman Çimen

'i de normal çimen gibi Kızıllaşmış Çimen'e dönüştürülebilir. (esas blok tipini çimene dönüştürür).
Orman'ın Diken Çalılık'ları Kızıllaşmış Diken Çalılık'lara dönüştürülebilir.
Taş,

Kızıllaşmış Taş

'a çevirilebilir.
Kum,

Kızıllaşmış Kum

'a çevirilebilir.

Buz

,

Kırmızı Buz

'a çevrilebilir.
Kızıllaşmış bloğun üç blok (ya da karo) üzerinde bulunan bloklar çevrilebilir. (Hatta çürümeyen bloklar bile dönüştürülebilir.)
Ayçiçekleri bundan sonra yayılmayı durduramazlar.
Kızıllaşma Biyom'u diğer materyaller kullanılarak (kKil ve kar gibi doğal materyallerle bile) yayılamazlar. Sadece Alüvyon, Et Duvar'a karşı olan zaferinizde dönüşebilir. Diğer zaferlerde dönüşmez.
Hardmode'da Kızıllaşma'yı durdurmak çabasındaysa, oyuncu en az üç fayansı boş olan bir alan veya çürümeyen bloklar oluşturmalı. Ayrıca Kutsal bloklar da Kızıllaşma Biyom'unun yayılışını durdurabilir fakat Kutsal'da kendine has tehlikeleri bulunur.
1.2.0.3 versiyonunda, Plantera'yı öldürmek Kızıllaşma Biyom'unun yayılma hızını normal Hardmode hızının %33 oranında azaltır.
Kızıllaşmış Çöl
[
]

Hardmode'da, Kızıllaşma Biyom'u Çöl'ler vasıtasıyla yayılır, kumları; Kızıllaşmış Kum'a dönüştürür. Kızıllaşmış Çöl Biyom'u, Kızıllaşma Biyom'una çok benzer: Aynı müzikler, düşmanları içerir. Lakin Kızıllaşmış Çöl ekstradan Kara Mumya, Ay Lamias'ı, Kusurlu Gulyabani ve Kum Ruhlarını içerir.
Kum, Kızıllaşmış Kum ile takas edilir. Renklerinin farklı olmasına rağmen kaktüsler hala eskisi gibi (kestiğiniz zaman) düşer. Sarmaşık, Kızıllaşmış biyomlarda meydana gelmez.
Notes
[
]
Crimson can be spread artificially using the Clentaminator with the Red Solution, obtainable from the Steampunker during a Blood Moon in Crimson worlds (she sells the Purple Solution in a Corruption world instead).
The Steampunker will only sell the Flesh Cloning Vat and Red Solution in a world that generated with Crimson naturally. Artificially creating a Crimson biome will not cause her to sell them.
Creating a new Crimson biome requires at least 200 Crimson blocks, such as Dirt with Crimson grass, Crimstone, Crimsand or Red Ice Blocks. Although Crimson replaces Corruption at world generation, it does not prevent Corruption from being artificially created in a Crimson world, and vice versa. Spreading remains normal.
A three tile wide gap may not be enough to stop the spread of the Crimson on the surface, as crimson grass can spawn vicious bushes, which can bridge the gap and continue the spread. It is recommended you have three tiles of noncorruptable blocks filling the gap in order to prevent this, both above the surface a bit, and down to the underground layer.
The shade of Crimson grass appears to be almost the exact same shade as inverted pure grass.
The achievement, Corruptible, refers to the Corruption. However, the Crimson appears to have no Crimson achievement equivalent.
Tips
[
]
One way to know if your world has Crimson is to ask the Guide. He will tell you to break a Crimson Heart if your world has Crimson, or to break a Shadow Orb if the world has Corruption.

In 1.3, one-half of the world generation progress bar will be green, and the other half purple or red, depending on if the world is to have Corruption or Crimson. Additionally, the bar on the inside will be yellow in a Crimson world and lime green in a corruption world, representing ichor and cursed flames, respectively. The step in world generation in which the Crimson is created is called "Making the world bloody." Also, a tree at the side of the world name in world selection has one green/normal side, the other purple/red (indicating Corruption/Crimson respectively). In hardmode, part of the tree will be yellow, representing the Hallow.

In Expert Mode, the Vampire Knives are highly useful in virtually all situations. However, the Crimson's boss accessory, the Brain of Confusion, pales heavily in comparison to its Corrupt counterpart, the Worm Scarf, meaning that the two balance each other out.
Trivia
[
]
Because of the large circular cavity, its out-warding branches, and the entrance tunnel cutting at sharp angles, the chasm could be interpreted as a cartoon-like hand, or a heart connected to veins.
The entrance of the chasm has teeth acting like stalactites and stalagmites, and could be interpreted as the entrance being the mouth of a beast.
The interpretations of the above mentioned trivia notes would make sense with the Crimson's gore like theme.
Many Crimson enemies have deformed features or blisters that resemble cancerous growths.
In Blood Moons three Critters turn Vicious (the Vicious Bunny, Vicious Goldfish & Vicious Penguin), a reference to The Crimson. (You also can manually turn these critters Vicious with Vicious Powder.)
Ayrıca bakınız:
[
]
History
[
]
 Masaüstü versiyonu
Desktop 1.3.0.1

: You can now harvest Vicious Mushrooms from the Crimson. The Crimson monsters no longer drop Crimson Key Mold but now drop Crimson Key.Crimson Grass can grow red Thorny Bushes. Shadewood Trees now drop acorns.
Desktop 1.2.3

: Crimson Deserts now have the proper water color. Added unimplemented crimson monster sounds.
Desktop 1.2.1

: Now halted by Sunflowers. Crimson and Hallow now counteract each other.

 Console version
Console 1.02

: Introduced.

 Mobile version
Mobile 1.2.6508

: Introduced.