Thrown Water
Thrown Water refers to a set of three consumable weapons that each convert a small area into a biome (Hallow, Corruption or Crimson for Holy Water, Unholy Water and Blood Water respectively) when thrown. This conversion affects a roughly circular area with a radius of four blocks from the center. Enemies within this radius are also damaged slightly; this damage is flat and cannot be modified by any buffs or equipment.
Holy Water is only available in Hardmode. It is possible for Corruption or Crimson Deserts to be generated naturally with the world, making the other two throwable waters available from the beginning of the game, however these biomes will not spread onto Sand until Hardmode begins, therefore worlds generated without Corruption/Crimson Deserts will not have Ebonsand/Crimsand until then. On the
 Desktop version and

 Mobile version, however, Vile Powder or Vicious Powder can be used to convert sand into its corrupt counterpart.
Holy Water



Projectile created
Holy Water
Unholy Water



Projectile created
Unholy Water
Blood Water



Projectile created
Blood Water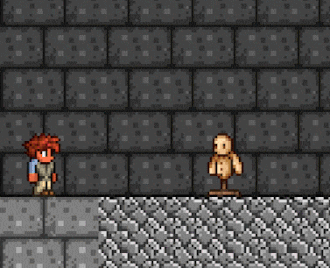 Result
Ingredients
Crafting station
Blood Water

(10)

By Hand
Holy Water

(10)

(  )
Holy Water

(5)

( )
Unholy Water

(10)

(  )
Unholy Water

(5)

( )
The damage type of Thrown Water is unique and does not belong to any category. It is not affected by buffs, accessories, or any other factors. This makes it the only throwing weapon from before 1.4 to not do ranged damage.
The effects of Thrown Water can be reversed with Thrown Powder.
For creating large areas of Hallow, Corruption or Crimson, a Clentaminator may be a better choice. It fires a stream of solution with a range of about 60 blocks.
 Desktop version
Desktop 1.3.0.1:

Updated sprites for Holy and Unholy Water.
Holy Water's crafting recipe changed from 5x Pixie Dust and 1x Bottled Water to 10x Bottled Water and 2x Pixie Dust.
Unholy Water's crafting recipe now requires 10 Bottled Water, and produces 10 Unholy Water at a time.
Blood Water introduced.